Kokolato is a Bali based vegan icecream manufacturer that focuses on small batches handcrafted ice cream using the highest quality organic, locally sourced, vegan, low-glycemic, and gluten-free ingredients available on the market. 
The brand recently matured into the market of conscious apparel and I was asked to create a complex visual portraying the beautiful island of Bali while also slipping into the composition some of the unpleasant events and setbacks that Jonathan Keim, the founder of Kokolato, had been facing during his time living in Bali, Indonesia.

Each element of the illustration tells a unique true story of Jonathan, from being threatened with a Samurai sword by a Balinese gangster while being blocked in the villa by stacked furniture placed in front of the entrance to the wonderful blessings of a Balinese High Priestess.
The process started with gathering visual references of popular landmarks in Bali (Ubud Palace Gate, Gate of Heaven overlooking Agung volcano, Uluwatu temple, etc) plus references for the elements that would make up Jonathan's story, like pictures and Google Street View captures of the villa he stayed in while facing the threat of the Balinese gangster and references from the promotional video that completes Kokolato story.
This is V1 of the rough sketch.
V2: Jonathan suggested to include the Ubud Palace gate into the composition, to make the villa more similar with the Google Street View reference and to dress the balinese gangster in a sarong and make him a bit fatter, so here's V2 and the final approved sketch.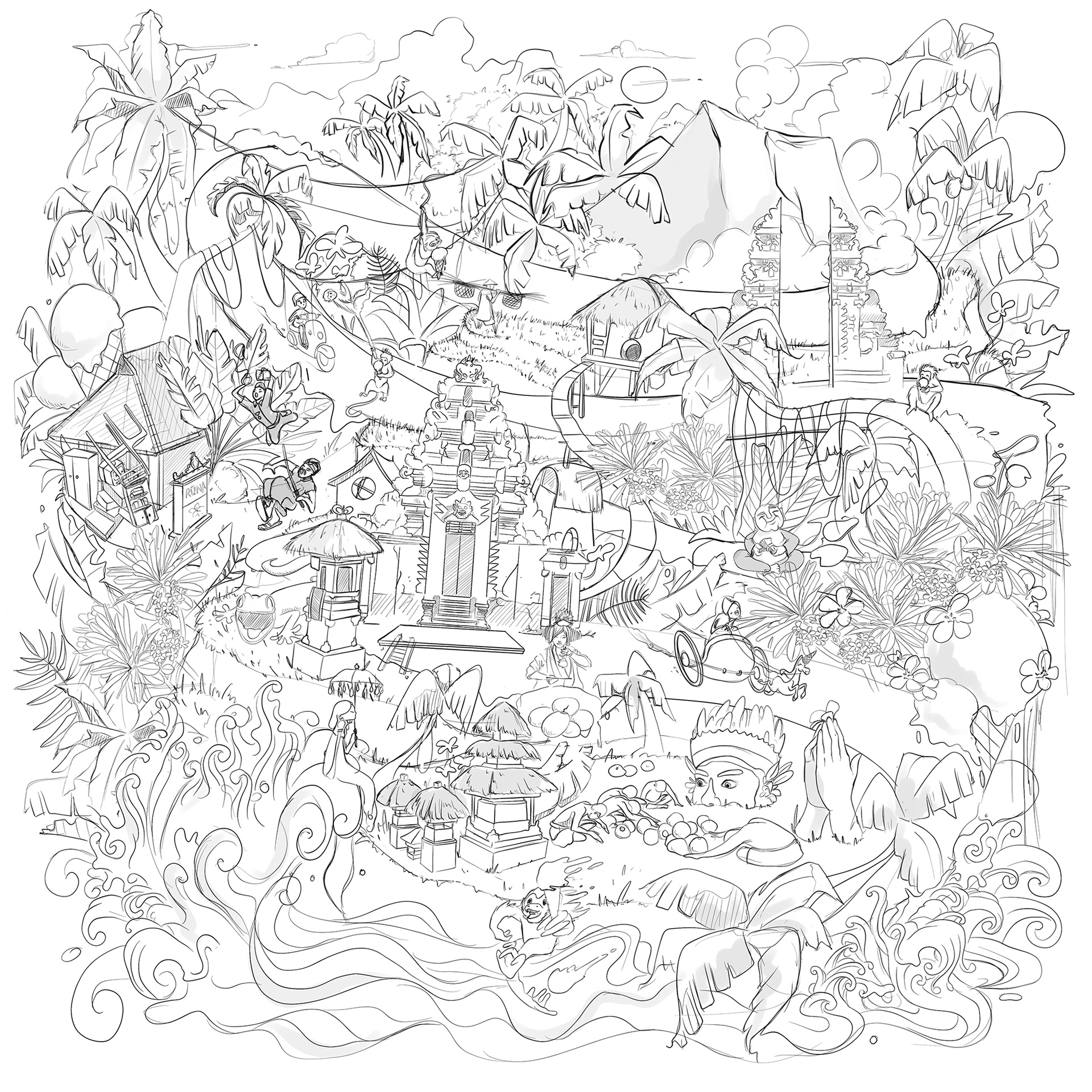 We decided to use lots of greens throughout the composition to really convey the jungle atmosphere and lush scenic greenery you can see on the island, and especially in Ubud, where Jonathan was based.  
A happy, ceiling roaming gecko could not miss the chance to be featured in Bali themed illustration, so we managed to find him a spot as well, alongside with some playful thieving monkeys.
Every item of apparel that is purchased plants 10 trees and recycles 4 plastic bottles! 
"We're not just offsetting our carbon footprint, we are effectively giving people an opportunity to have a huge positive impact on the environment." - Kokolato